ISU Printing Policy
https://www.policy.iastate.edu/policy/printing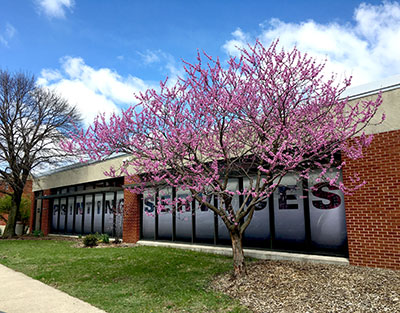 "The use of Printing Service's facilities and quick print center, including acquiring services from external providers, is governed by policy to ensure use of reasonable and cost-effective services/equipment and provide a custodian for central printing records.
Policy Statement
All requests to acquire printing services and printing equipment must first be routed through Printing Services for evaluation and approval. Currently exempted from this requirement are office copiers and individual printers used for departmental convenience. Printing may not be provided by other than the university's in-house Printing Services operation without its prior approval. The university's Printing Services operation will determine whether the work is performed in-house or contracted through external providers. All personalized business cards, stationery, letterhead, and forms are to be obtained from Printing Services."
Reason for the policy
Printing is unique among services and commodities at Iowa State, in that both the existence of the internal printing facility, including the quick print center, and the subcontracting of printing are specifically authorized or regulated by university policy. Operating under Board of Regents, State of Iowa guidelines, Printing Service's mission is to identify and efficiently address Iowa State's core printing needs by providing the appropriate printing services to the Iowa State community at the appropriate price, turnaround time, and quality. The goal is to provide services that contribute to the success of Iowa State, by producing projects in-house that can be most efficiently done on campus and by subcontracting work to external suppliers as necessary. All external printing work must be initiated through the purchasing agent (Print-Buyer) on-staff at the Printing and Publications Building.
Advantages to Our On-Site Services
2 Convenient Locations – We have 2 convenient locations across campus, Printing and Publications Building and the Student Innovation Center. These locations make quick response and turn-around possible. We offer complimentary pick-up and delivery services, with any order, anywhere on campus.
Confidentiality – Proprietary documents are kept safe and secure (exams, contracts, checks, etc.), and given high priority - i.e.: grant proposals with short turnaround times
Dependability and Ease of Doing Business – We are better able to assist the university with special needs. We have a disciplined approach to identifying customer needs, adopting technology, and tailoring and customizing value-added services to meet specific core needs at Iowa State.

Printing Services facilitates a large number of orders per year, something that would be near impossible for external vendors to accomplish in a timely fashion. 13,420 individual jobs were produced in FY23, of which, over 98% were completed on or before scheduled.

Vested Interest and Loyalty – Our dedicated and passionate staff are all players on the same team, Iowa State University!
Academic Partnerships – educational classes and lectures are collaborated with academic units such as College of Design, English, Journalism and communication groups across campus.
Participation in University Events – we support and participate in faculty, staff and student events that promote campus groups and services.
Money-Saving Efforts – Our in-plant is always looking for ways to save university money and be good stewards of state funds.

No Funding – We are 100% self-supporting, charge-back operation working within the division of Operations and Finance.
Postal Savings – by utilizing the right software and preparing mail appropriately, we saved the university over $500,000 each year.

Print-Outsourcing Administration – Printing Services is staffed and equipped to produce Iowa State's core printing needs efficiently and on site. Work outside of that core area is evaluated, and if it can be produced more efficiently elsewhere our print procurement staff uses the competitive bid process to obtain the printing.

When comparing low bids to the high, there is a difference of about 43%, which equates to a potential savings of over $250,000 to university customers. This emphasizes the importance of managed competition and having knowledgeable individuals on staff for print procurement.

Tailored Service – We're better able to prioritize work, while an outside vendor will print for hundreds of diverse customers with potentially volatile prices. As part of Iowa State University, Printing Services is in the unique position to listen to users, understand their print-communication needs, and then provide efficient solutions in a helpful, friendly way. We will go above and beyond the ordinary level of service or standard turnaround time at no extra charge.

One of Many Testimonials:
"ISU Printing Services provides the Office of Admissions the significant advantage of having an on-campus, full-service printing shop with the capacity to handle our many large scale print communication streams and publications – all at a very competitive price. Printing Services also has the ability to accommodate Admission's need to respond very quickly to the constantly changing and highly competitive landscape of new student recruitment. Finally, ISU Printing Services is always looking out for the best interests of our department, frequently identifying ways to reduce costs. In short, ISU Printing Services provides the Office of Admissions with a competitive advantage, contributing to our record setting new student enrollment. "
Phil Caffrey - Director of Admissions Operations and Policy

On-Site Experts – Having been in service since 1922, we have a keen awareness for emerging products and technology.

We participate in national industry conferences and maintain regular contact with leading national experts and organizations, such as Association of College and University Printers (ACUP+), In-Plant and Mailing Association (IPMA).

Quality – We have a thorough understanding and provide support for the ISU identity/brand standard. A brand is an asset—to be protected, preserved, and nurtured.
s