Digital Printing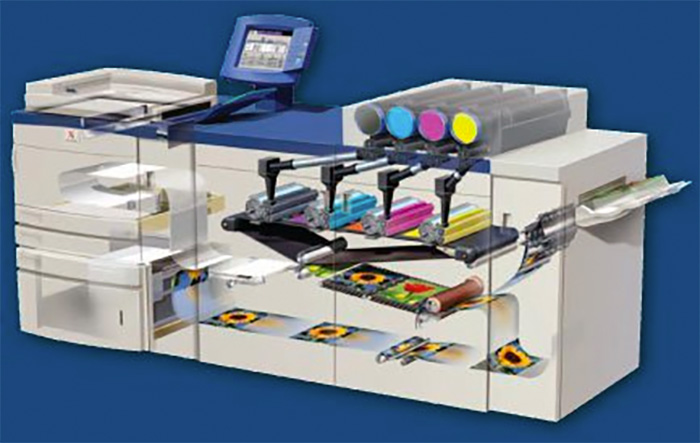 Digital printing doesn't use plates the way offset does. Instead it uses options such as toner (like in laser printers) or some printers use liquid ink. Digital printing shines when lower quantities are needed. Another benefit of digital printing is its Variable Data Printing capability. When each piece needs a unique code, name or address, digital is the only way to go. Offset printing cannot accommodate this need. While offset printing is a fantastic way to produce great-looking print projects, many times large-quantity runs are not needed, and the best solution is digital printing.
Examples of Digital Printing
Full-Color (CMYK)
Course Material
Forms and Office Material
Marketing and Promotional Literature (Brochures, Fliers, Folders)
Books/Booklets
What are the Advantages of Digital Printing?
Setup costs are lower for short runs
Print only the amount you need, when you need it (on-demand)
Variable-Data-Printing (VDP)
Unique names, addresses, codes, numbering and more can be done easily.
Sequential Numbering – involves the printing of ascending or descending identification numbers so that each printed unit receives its own unique number. Frequently used on invoices, purchase orders, checks, raffle tickets, contest entries, or virtually any printed item that needs unique identification.
Improved technology has made digital quality acceptable for more uses, especially in the wide/large format area.
Specialty Digital Printing Options
Metallic Gold - Heighten both impact and creativity with gold toner! Flexible digital printing of stunning metallic gold can help emphasize your design.
Dimensional Clear - Can you feel it? Dimensional coating gives specific text and images a raised or 3D effect that makes your communications come to life.
Spot Gloss - Utilizing gloss effects in strategic places on your design not only adds impact to your prints; it extends the life of the print.
Take a look at the different types of projects we can complete below:
(click on an image to see more detail.)